BISHOP. DR. CHARLES OLOWOJOBA
PRESIDENT AND SENIOR PASTOR,
DAYSPRING CHRISTIAN MINISTRIES INT. INC., ABUJA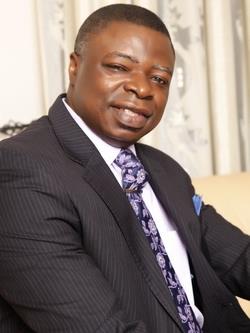 Born in September 1953 in Igarra, Edo State, Bishop. Dr. Charles Olowojoba is the President and Senior Pastor of the award-winning (FASTEST-GROWING CHURCH) Dayspring Christian Ministries International Incorporated, Abuja, with branches in Nigeria and abroad.
A 1979 graduate of Medicine of the University of Benin Medical School; he is an experienced medical practitioner who has held various leadership positions in the Nigerian Medical Association (NMA) as well as in the Church. He was a part time pastor for nine years before answering the call into full time ministry in the year 2000.
He was the founder, MD/CEO of Maycare Hospital and Clinics in Kano until the year 2000 when he became the President and Senior Pastor of the Dayspring Christian Ministries Inc. He has also served on the Boards of several organizations. He is the author of several books as well as being a public speaker. He runs a popular Radio and TV ministry reaching millions of people in Nigeria and abroad. Bishop. Dr. Charles Olowojoba is also the founder of the Life Development Institute, Leadership Training Institute and Dayspring School of Ministry where he lectures as well.
This humble man of God is an anointed visionary leader under whose leadership the Dayspring Bible Church has blossomed and prospered tremendously in just seven and a half years with an eleven hectare property along the Airport Road in Abuja, Federal Capital Territory, Nigeria. He believes in excellence, commitment and dedication. God is using him tremendously to help millions succeed in life.
A man with a large heart and passion for helping the poor, he established a Feeding Programme as part of the Ministry and feeds about 600 people monthly in different locations in addition to generous donations to orphanages. The food store of the Church is opened weekly to the general public to help the poor keep body and soul together. Many orphans are also on full scholarship as a result of his determination to give the less privileged a head start in life through sound education.
Bishop. Dr. Charles Olowojoba is the recipient of several awards by reputable organizations, the most recent being The Distinguished Nation-Builders Merit Award 2007. He is also an Ambassador For Peace. This honour is conferred by the Universal Peace Federation/Inter-religious and International Federation For World Peace on individuals whose lives exemplify the ideal of living for the sake of others and who dedicate themselves to practices which promote the founding ideals of the UPF/IIFWP: Universal Moral Values, Strong Family Life, Inter-Religious Cooperation, International Harmony, Renewal of the United Nations, a responsible public media, and the establishment of a culture of peace.
A seasoned and powerful preacher and teacher, he is the author of several life-changing books that are on demand.
He is married to his beautiful wife, a Pharmacist and powerful woman of God Rev. Mae Olowojoba and they are blessed with a son David.